Thermography Scan. . .New Early Detection of Disease Technique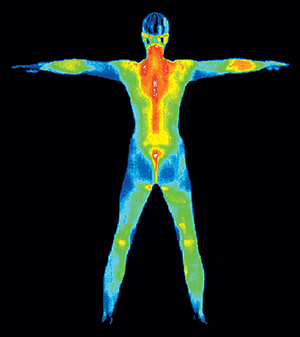 A Thermography Scan is a useful technique designed for detecting various diseases or conditions. It involves a non-invasive procedure where images are taken of certain parts of the body utilizing a specialized camera. This FDA-approved procedure showcases thermal abnormalities present without emitting any harmful radiation and makes NO DIRECT CONTACT with the body when capturing images. Therefore, there is NO PAIN OR COMPRESSION of any kind such as one might experience when having a mammogram. Thermal imaging may detect EARLY SIGNS of a wide variety of conditions including but not limited to: cancer/breast cancer, heart disease, inflammation, muscle pain, immune dysfunction and much more.
Thermography Scan becomes especially useful in EARLY DETECTION of cancer, particularly breast cancer in women. It is based on the principal that vascular circulation and metabolic activity are present and active in pre-cancerous tissue and that it remains almost always higher than in noncancerous tissue. Cancerous tumors cause an increase in circulation by opening dormant and existing blood vessels. When this occurs, there is typically an increase in the affected breast's surface temperature. Thus, a thermography scan can be essential for early detection should this take place inside a woman's body.
Due to the benefits of this unique technique, consider making it a part of your regular health care and prevention care plan. If you choose to have a yearly thermography scan, then you will be able to keep track of the heat patterns working inside your body during an extended period of time. Having this procedure done yearly may assist in you in detecting shifts in the health of your body before a more serious disease or condition surfaces.
Resources
Thermal Patient Questionnaire – click here to access.
Videos:
Watch this 10 minute  video of Suzanne Somers as she discusses thermography, chemo sensitivity tests and her book, Knockout. Please watch this!
http://www.youtube.com/watch?v=u-aYxu4Uys0&sns=em
Watch a video on Thermography with Dr. Mercola
An Alternative to Mammograms-Thermography-Videos
http://www.youtube.com/watch?v=zVXXK8UY83U&feature=colike
http://www.youtube.com/watch?v=-fcjRIbmnic&feature=youtube_gdata_player
Video of Dr Sherri Tenpenny as she discusses the benefits of Thermography as an early breast cancer detection screening:
Video on Thermography –Dr Mercola
http://www.youtube.com/watch?v=zVXXK8UY83U&feature=colike
Dr. Philip Getson Interviews
Below are interviews with Philip Getson D.O. Click  to watch the interviews  as Dr Getson discusses what Thermography is.
You may also click here to view this playlist on our YouTube Channel.
Articles:
Thermography Article By Dr. Northrup
Article by Dr Mercola on Thermography:
http://www.thebreastthermographycenter.com/articles/Thermography-Special-Report.pdf
"Redefine Breast Health" Article by Dr Iris Rosenfeld
"Redefining Breast Health – Dry Brushing" Article by Dr Iris Rosenfeld
For more information contact Sherri at:   (714) 345-0561  or  Email: Sherri@TotalThermalOC.com
I love coming into this office.
"I had tremendous pain in my lower back and neck.  I could barely walk or even function normally before I came to see Dr. Rosenfeld.  I had this condition on and off for years, but never to this degree that caused me to finally seek professional help.  I was given Vicodin, Soma and Naproxin by a regular family physician.  The medication only temporarily took away my pain.  I never had any other treatment other than a physician who prescribed me these medications.  One of my husband's friends spoke very highly of Dr. Rosenfeld so I called her.  I have gotten great results!!! I am finally recovering from my back/neck injury.  Dr. Rosenfeld and her entire staff have been extremely caring and helpful.  I love coming into this office."